What kind of equipment for mountaineering in China?
January,09 2022 BY Mountaineering China
What Kind of Equipment for Mountaineering in China? This article has detailed advices of necessary gear for climbing China mountains, so that you can be more comfortable in your China Mountaineering trip.
China has many beautiful peaks just waiting to be explored. The most important thing in the preparation is to pack all the equipment you need for mountaineering in China, so that your trip will be foolproof! In this article, our Chinese mountaineering experts will give you the most detailed and practical mountaineering equipment advice, including clothing, backpacks, moisture-proof pads, trekking poles, etc.
In terms of heavy equipment for mountaineering in China, the ranking according to the importance of equipment is as follows:
1. Backpack
2. Shoes
3. Sleeping bag, damp-proof mat and tent
4. Charge clothes and trousers
Backpack:
Generally speaking, Mountaineering in China requires two backpacks. One daily bag, which can hold mountaineering items for a day back and forth, and the other is a large-capacity backpack, which can hold items for overnight; If it is climbing Haba Snow Mountain, it only needs a large capacity package, and no need to prepare a small one.
Tips on choosing:
When choosing a backpack, firstly, we consider the capacity of the backpack according to the itinerary. If you don't camp and within 3 days, 10L - 30L capacity backpack is enough; if you don't camp for more than 3 days, 40L is enough; If you camp for more than 3 days, you need 50L - 80L to load 13 - 30 kg items.
Secondly is the backpack system, which is the core value of the backpack. A good backpack should be close to the body, which can relax the shoulders and waist and concentrate the gravity on the hips.
Others are breathability, backpack weight, convenience of storage.
Some brands of outdoor backpacks are public to know, including Archeryx , Osprey, Gergory (GG), Halglofs, Mystiy Ranch, Dana design, Granite Gear and Deuter.
Popular brands are Arcteryx, Osprey and Gregory(GG).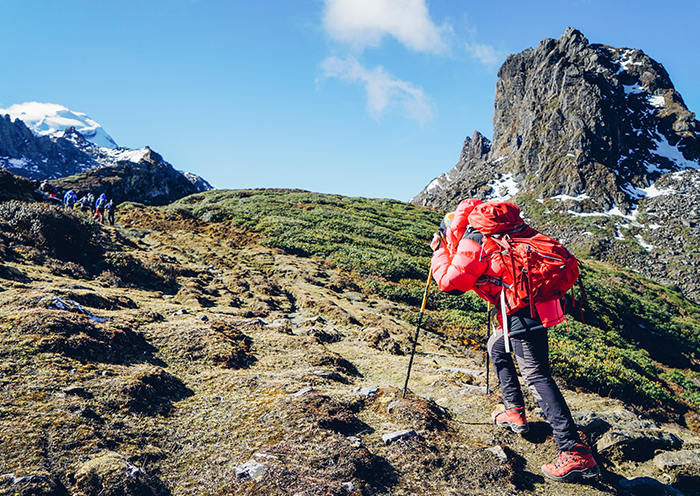 Trekking poles are definitely a good assistant for your mountaineering trip
In terms of choice, Archeryx is coquettish, but the price is very considerable. For friends who have enough budget, it is very worthy to own.
If you think the cost performance of Archeryx is not so high, Osprey and Gregory are the other two popular brands you can consider.
Regarding hardness and weight-bearing capacity, Gregory surpassed Osprey;
Regarding breathability, Osprey is better;
Regarding aesthetics, Gregory is wider after packaging, while Osprey is thinner and longer. So Osprey is better.
Shoes:
When climbing mountains in China, a very important piece of equipment is mountaineering boots. The best mountaineering boots can shorten the run-in period, better grip, stronger load-bearing capacity. It can protect feet and joints from injury to the greatest extent, and easy to acclimatize the extreme terrain and weather.
Tips for choosing:
1. Upper:Gore-Tex ; Sole: vibrim ; High top.
Gore-Tex fabric is widely used in different outdoor products. It has the function of waterproof, windproof and breathable. Comparing with ordinary waterproof fabrics, it is more air permeability.
Vibram, with a classic gold octagonal logo, gives mountaineering shoes outstanding grip, light weight, wear resistance and durability.
The function of high-top of mountaineering shoes is to better cope with some extreme weather conditions and protect the ankle from a sprain.
2. It is suitable for long-distance trekking, various terrain and extreme cold weather. (it can also be used as a non-technical primary Snow Mountain, for example, Yuzhu Peak in Qinghai)
Recommended brands: SCARPA, LASPORTIVA, LOWA, Zamberlan. It is worthy of buying the most expensive ones within budget.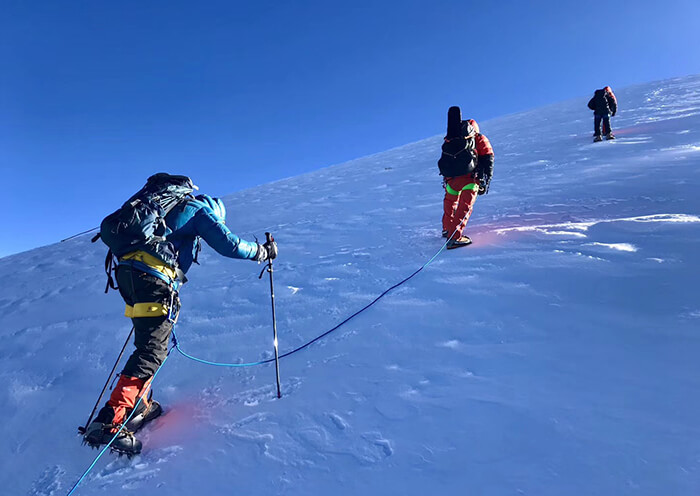 Climbing to the summit requires mountaineering shoes with better grip
Scarpa Kailash is highly recommended. It was released in 2008 and won the grand prize. Because it is made of waterproof suede and mesh materials, the overall weight is effectively reduced and its comprehensive performance is not reduced. It is loved by the majority of outdoor fans. I have been playing outdoors for many years. Scarpa is the only pair of new shoes that don't wear feet on long distance trekking, which accompany me through different lines for many years.
If you have enough budget, cowhide-made can be considered. If the foot shape is narrow, Italian origin can be considered; If the foot shape is not narrow, then it may be tight. You can consider the Asian Version. (Please note: the European version is slightly narrower than the Asian Version).
Tent:
If backpacks and shoes show the importance in the day time trekking, sleeping bags, moisture-proof mats and tents show the comfort of the night.
Choosing a tent needs to consider the factors of firmness, weight, comfort and price. Generally, double-layer tent is useful. The inner tent is breathable and waterproof; while the external layer is waterproof and airtight, which can prevent rain.
If it snows heavily, it needs a tent which is suitable for four seasons. Otherwise, a tent suitable for spring, summer, winter is enough. And try to choose a tent which is light weight and small volume.
Secondly, according to the number of travelers, you can choose single tent, double-person tent or multi-person tent. Generally speaking, double person tent is recommended as it has enough space if suffering extreme weather, you can put all items in the tent.
Recommended economic tent, such as: KAILAS, BIG AGNES, MRS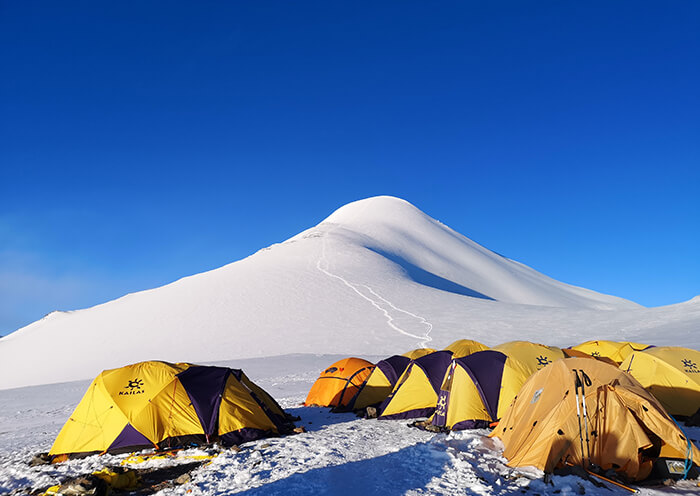 Spend the night in a tent during climbing trip
Sleeping bag:
For climbing trips at high altitudes in China, down sleeping bags are preferred at high altitude. Goose down is better than duck down. At the same temperature standard, goose down is lighter and smaller. Generally speaking, for goose down, below 4000 meters, the filling amount is about 700g and the limit temperature is - 5℃. While above 4000 meters, the filling amount is over 1000g and the limit temperature is at least - 15℃.
Even if marked with the same temperature scale, a good sleeping bag and a bad one are different in quality. A bad sleeping bag will also be filled with other fillers in addition to down to reduce the cost , which will greatly reduce the warmth retention and the air permeability of the fabric. Therefore, good quality should be put the first.
Moisture-proof mat:
There are two types of moisture-proof mats. One is foam, which is large in size, and convenient to pack. It is very light. The other one is air cushion, which is good to warm up, but might be easily to be broken during the road and uneven camp. So the foam type is a good choice when mountaineering.
The R value will be indicated when purchasing the moisture-proof pad. The higher the R value, the more warm it will be. Therm-a-Rest is highly recommended.
Charge clothes and pants:
Stormsuit usually refers to a hard shell, which is used to deal with bad weather outdoors. It is an outdoor equipment with waterproof, windproof, breathable and scratch and tear resistance.
The best brand of charging clothes and trousers is undoubtedly Archeryx. Its top design, materials and workmanship are outstanding. So is the price. Mammut, Marmot, Mountain Hardware, Patagonia and Haglöfs are also popular outdoors brands. It's very necessary to prepare one and try to buy a good one.
Compressed down jacket:
For mountaineering in China high altitude, down jacket is essential. You'd better choose professional outdoor down jacket with good compress. Compared with ordinary down jacket, it should be lighter, warmer and better air permeability.
Outdoor down jackets are usually over 600g, or even over 800g which will be good enough to deal with the cold weather during hiking.
The famous brands of Down jackets includes Archeryx, Marmot, Mountain Hardwear.
Raincoat:
When it rains heavily, you need a raincoat, which can also keep you out of the cold. It's best to use outdoors instead of disposable.
Tips for choosing raincoats are as follows:
1. The raincoat is light and small;
2. The raincoat can cover backpacks;
3. The raincoat is not too long, usually around the knee. Because you will wear charge pants and mountaineering shoes, which are waterproof. If your raincoat is too long, it will be inconvenient to walk and easy to slip and fall when going uphill.
Quick-drying clothes and pants:
Fit your own and quickly dry. Salomon's comfort and quick-drying are better than other brands. Please note do not wear cotton outdoors, otherwise you may have eczema.
Hat:
The fisherman's hat is more practical, which can hold the light in different directions. In addition, Duck tongue cap is better for taking pictures.
Magic scarf:
The most cost-effective outdoor item. It is not only cheap but also widely used, which is recommended to take two pieces for long trekking.
Gloves:
It's best to prepare a pair of thin gloves during climbing mountains in China, which can be used for sunscreen, keeping body temperature when it's raining and windy or preventing being scratched by tree branches or rock during climbing. It is recommended to choose OR or Black Diamond gloves.
Sunglasses:
The glare from snow can cause snow blindness or the strong sunlight can hurt eyes, so wearing sunglasses is necessary to avoid these problems. Oakley sunglasses are recommended, which are quite light.
Regular sunglasses used in common life can also be used on the plateau. There are no special requirements. Generally speaking, the darker the lens color, the better the shading effect. At high altitudes, the sunlight is more stronger. Sunglasses are suitable for most travel itineraries and primary snow mountains. Usually, snow glasses are only used when climbing high-altitude snow mountains.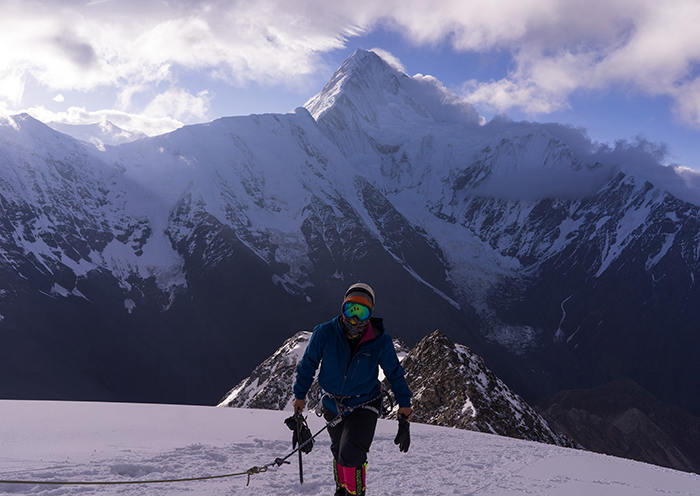 Climbing snowy mountains requires snow goggles to protect your eyes
Alpenstock:
Alpenstock is indispensable during climbing or mountaineering trips in China. Its main functions are as follows:
1. Reduce at least 22% pressure on knees and fully protect knees;
2. Protect the waist and spine;
3. Save at least 30% physical energy;
4. It can be used as a stand for rain shelter or sunshade;
5.It can be used for self-defense when encountering wild animals.
Types of Alpenstocks:
There are two kinds of Alpenstocks. One has a straight handle and the other has T handle. The straight handle is suitable for mountaineering and the other one is more suitable for elderly walking, so the straight handle is the better choice.
Material of Alpenstocks:
Alpenstock is usually made of aluminum alloy and carbon fiber. Aluminum alloy is heavy but firm, and carbon fiber is light but brittle. Regarding how to choose your alpenstock , it depends on road condition during trekking and the weight.
For example, if the road condition is complicated with many gravels and large stones during trekking, aluminum alloy is more reliable as its firm compared with carbon fiber.
If the altitude is high and the weight is relatively heavy, carbon fiber is more suitable. The higher the altitude, the lighter the weight.
Because of technology developed, the weight of aluminum alloy and carbon fiber is almost the same. So is the quality. Just choose what you like.
It is recommended to choose Black Diamond and LEKI.
Snow cover:
Snow cover is very practical in mountaineering. It is widely used when climbing snow mountains and crossing snow, mud and desert, mainly to prevent ice and snow, sand and others such as insects entering the shoes and trousers; when rains, it can keep you from water; when crossing muddy roads, it can keep the trousers clean. In this way, soils will not be brought into the tent when sleeping at night. There are two brands widely seen on the market with good quality , OR and Sea to Summit.
Thermos bottles:
Usually, hikers take two kinds of bottles during the trip. One is for hot water and the other is for cold water. For advanced trekking, water bags can also be chosen.
Headlights:
For a long distance trekking, headlight is required if we are cooking at night or getting up at night. For a short distance trekking, the trekking distance is short everyday and trekkers can arrive at camp before dark. Although the flashlight can also be used, headlight is better. Recommended brands
Stove head, tableware and cookware set:
For boiling water and cooking during hiking, the brand MSR can be considered for high-altitude snow mountaineering. Stove heads are enough for most trekking. The brand HUOFENG which can be easily bought in the market.
Knee pad:
If the knee joint is not good and the road condition is poor, it is recommended to use knee pads to protect the stability of the knee when going downhill and minimize the injury.
Toiletries:
Toothpaste and toothbrush
Moisturizer and hand cream: Plateau will be much drier than plain, and moisturizer is mainly for moisturizing;
Lipstick: a special anti UV lipstick. Moisturizing is also important. Instead, you can also use Vaseline which is very useful in plateau conditions.

Sunscreen: with an SPF higher than 50, Water Resistant and Non-Greasy;

It is recommended to bring disposable towels. So it can avoid the towels being very wet, and smelling stuffy all the time.
Drugs:
Bring some common medicines to deal with cold, gastrointestinal discomfort, altitude sickness and trauma. It only needs one or two persons to bring medicine in one team.
Road trip food:
Road meals are mainly for high calorie and light weight. (it's better to remove the excess packaging in advance, so it doesn't need to take back more garbage when outdoors).
For a long distance trekking, vitamins are essential. You can buy dehydrated vegetable soup. In my own experience, I like to bring fructose because it tastes better. When I'm hungry on the way, I can get energy at any time. In addition, you can take some spicy food to increase your appetite, so as not to lose your appetite due to fatigue.
The food should be dehydrated and compressed as much as possible, which is not only light in weight but also small in volume. If the teammates are strong enough, you can also bring outdoor pressure cooker, rice and vacuum meat for cooking.
Conclusion
Overall, a good pre-trip Equipment pack can benefit your entire mountaineering trip. Of course, we've also prepared a downloadable Equipment Checklist for your mountaineering in China, so you can check it out at any time.
Hot Deals
Chengdu - Wolong - Siguniangshan Town - Changping Valley - Haizi Valley - Base camp of Dafeng - Dafeng Summit - Sigunian
Chengdu - Wolong - Siguniangshan Town - Changping Valley - Haizi Valley - Base camp of Er feng - Er feng Summit - Siguni
Lijiang - Tiger Leaping Gorge - Haba Village-Base Camp- Summit - Haba Village- LIjiang
Quick Inquiry


Please drag the slider first for security verification
Data in submission...