Tips for Siguniangshan mountaineering trip
January,09 2022 BY Mountaineering China
This article details the mountaineering trip to Erfeng of Siguniangshan Mountain, and takes you to some important climbing tips and climbing experiences to make this unforgettable adventure even more enjoyable!
1. Mountaineering
On the first day, we will enter Siguniangshan(3200 meters), mainly acclimatizing high altitude. Do everything slowly, speak slowly, walk slowly etc. You'd better not drink alcohol in the plateau.

On the second day, we will trek in the Changping Valley, from 3200 meters to 3700 meters.

On the 3rd day, after breakfast, we set off at 9:00am. It is about 9km from the hotel to the spot gate. Please prepare warm clothes,a kettle,a road trip meal, personal items in a small backpack and the rest will be taken over to horses to base camp.
Dafeng is 5025 meters, about 5-6 hours 15 km trekking from Haiz Valley gate to Dafeng Base Camp; Erfeng is 5276 meters, about 7 hours 18 km trekking from Haiz Valley gate to Erfeng Base Camp.The trekking route in the scenic spot is easy and clear. There has a supply station along the way, such as instant noodles and hot water. Team members can choose to ride horses if needed, but please remember to take warm clothes and move slightly on horseback avoiding the scaring of horse.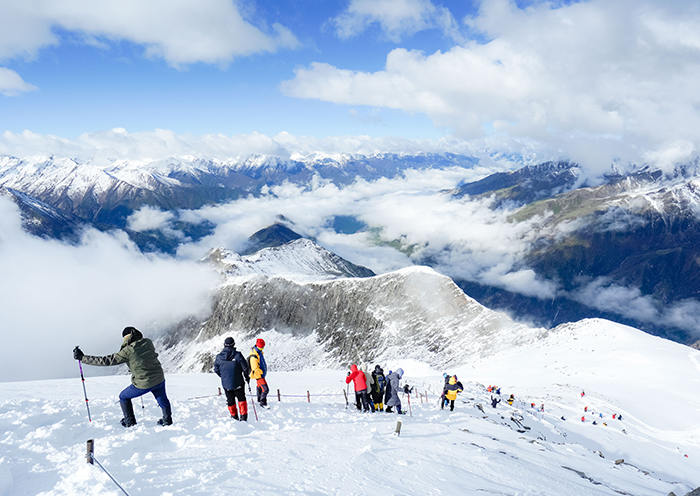 dafeng summit
The Erfeng Base camp is 4200 meters, while the Dafeng Base camp is 4280 meters. Both are stone house and multi-bed rooms. There has generators but not working 24 hours all the day, so portable battery is required to charge your mobile phone. Doing everything slowly, speaking slowly, walking slowly is also important.

At 3:00am early in the morning, we get up breakfast and get ready for summit. The altitude rises is about 800 meters from Dafeng Base camp to Dafeng summit. It takes about 3-5 hours. We will climb about 1000 meter rising in 5-7 hours from Erfeng Base camp to Erfeng summit. It is very significant to take deep breath rhythmically and take a short rest during summit as oxygen is thin in high altitude.
2. Acclimatizing high altitude
A. Necessary training in high altitude
B. Make sure take good sleep
C. Drink more hot water
D. Eat more food and eat well
E. Take hot water during mountaineering
F. Doing everything slowly, speak slowly, walk slowly when mountaineering
G. Keep warm
H. Keep a good attitude
Hot Deals
Chengdu - Xiazimei Village - Gongga Temple - Base Camp - C1 Camp - Summit 5588 meters - Base Camp - Gongga Ice Lake - Go
Chengdu - Wolong - Siguniangshan Town - Changping Valley - Haizi Valley - Base camp of Er feng - Er feng Summit - Siguni
Lijiang - Tiger Leaping - Gorge - Haba Village - Black Sea - Base Camp - Summit - Base Camp - Haba Village - LIjiang
Quick Inquiry


Please drag the slider first for security verification
Data in submission...