FAQ about 5396m Haba Snow Mountain climbing trip
January,09 2022 BY Mountaineering China
Find out everything about the 5396m Haba Snow Mountain climbing trip, from the best time to mountaineering level, base camp and more.
1. Is there any restriction to attend Haba Snow Mountain tour?
Travelers aged 18-70 years with good health are acceptable to attend Haba Snow Mountain tour. Medical examination report (a chest X-ray and an electrocardiogram in a hospital or a physical examination center at or above the county level within three months before departure) is required to apply for climbing registration.
Physical Requirement: The tour is about 5 to 6 days. On the 3rd day (5 days tour), the third and 4th days (6 days tour) have zips and exercises. The intensity is medium and it is designed to adapt to changes in altitude. There are requirements for adaptation and physical endurance.
2. What is the best time to climb Haba Snow Mountain tour?
From April to November is the best time to climb Haba Snow Mountain. In both May and June are beautiful as the alpine rhododendrons are blooming.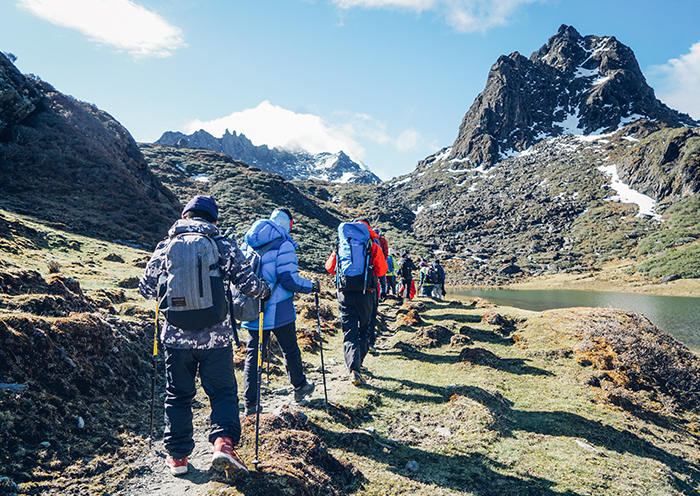 haba snow mountain hiking
3. How can I get to Lijiang to attend the tour?
You can take flight or train to arrive in Lijiang, Yunnan province.
Airport: about 30km to downtown, 40 minutes driving
Train station: about 8km to downtown, 25 minutes driving
4. How should I do if I don't have technical equipment or don't know how to use?
There are two days tour above 4000 meters. It is necessary to take down jacket, Charge pajamas,Fleece coat, Hiking boots during Apr to Nov travel.
We will provide rental service of the whole set of technical equipment and distribute them in Base Camp. There are training courses Base camp. You will get trained and learn how to use them.
5. Can my electrical equipment get charged during climbing?
There has a generator in Base Camp at 4050m. You can get charged in daytime as it will be shut down at night. However, after arriving at Black Sea (6 days tour), you need to prepare the power bank in advance.
6. Do I need to prepare road trip food during mountaineering?
During mountaineering, we will prepare breakfast and dinner in camp and road meal for lunch. You can take some snacks with you on the summit day.
7. Do we trek to Base Camp?
We can directly drive to Haba village with luggage from Lijiang. To Base Camp, only 6km trekking is needed, equipped with horses.
8. Are there internet signal during mountaineering?
CHINA TELECOM has better signal(2G or 4G) at Base Camp.
Hot Deals
Lijiang - Tiger Leaping - Gorge - Haba Village - Black Sea - Base Camp - Summit - Base Camp - Haba Village - LIjiang
Chengdu - Wolong - Siguniangshan Town - Changping Valley - Haizi Valley - Base camp of Dafeng - Dafeng Summit - Sigunian
Golmud - Xidatan - Base Camp - C - To Summit - Base Camp- Golmud
Quick Inquiry


Please drag the slider first for security verification
Data in submission...